Tuesday, August 11, 2009
Posted by

A.OK NYC
at 7:42 AM
No comments:

Posted by

A.OK NYC
at 7:38 AM
No comments:

On Thursday, August 20th jewelry designer C H R I S H A B A N A will launch a limited edition jewelry collection exclusively for A.OK. Entitled Legends of Pop, the collection features unique pieces inspired by stylish pop icons like Madonna, Prince, Michael Jackson and Boy George. Just as A.OK offers today's most fashion forward looks for accessible prices, so will Legends of Pop.
About C H R I S H A B A N A:
The Brooklyn based jewelry line takes dark, gothic elements and twists them around to become iconic, pop talismans. Since the line's debut in 2004, C H R I S H A B A N A has maintained a playful yet subversive approach to jewelry design.
With the support of such organizations as Gen Art (Fresh Faces 2004, New Garde 2007), and collaborations with designers such as Eugenia Kim, Hood By Air, and Cosa Nostra, C H R I S H A B A N A has become a mainstay of the fashion scene. In addition, he has been inducted to the Oak Showroom, the prestigious arbiters of downtown NY style.
About A.OK by OAK
easy
accessible
inclusive
unisex
vintage
youth
AFTER PARTY- 10-1AM
AT MAIN MAN 171 E.BWAY
WITH SPECIAL GUEST DJ PATRIK-http://cobaininacoma.blogspot.com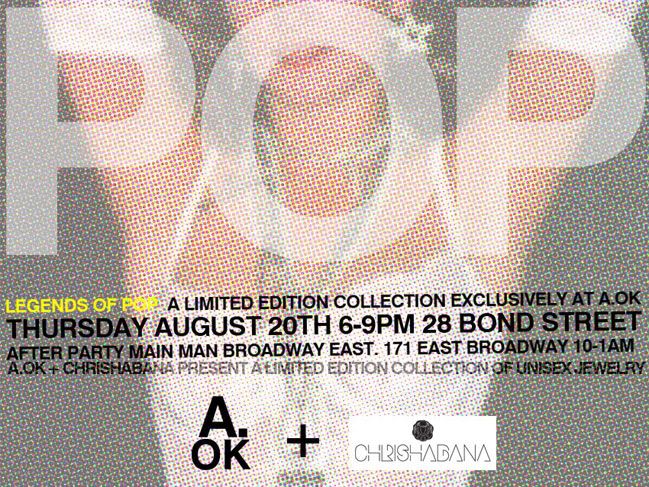 Posted by

A.OK NYC
at 7:23 AM
No comments: